KNX National Group USA Heralds New Era in Open Protocol Building Control
KNX – the worldwide Standard for commercial and residential building control – is set to grow in the USA thanks to the formation of KNX National Group USA.
KNX projects, such as the mansion of baseball legend Eddie Murray and the House of Rock in Los Angeles, are not only showcase projects, they reflect the growing demand for KNX in the U.S. market. So it was no surprise that the foundation of KNX National Group USA on 6 May 2015, as well as its participation at LIGHTFAIR International (5 – 7 May), was a resounding success!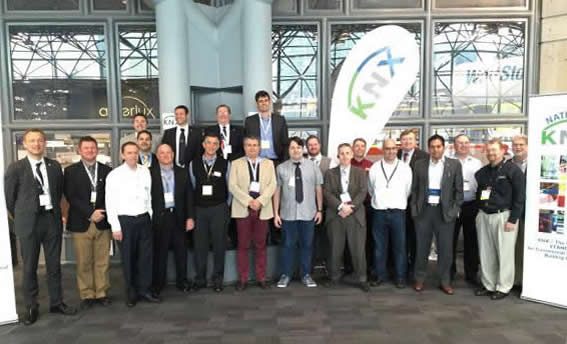 The need for KNX in the U.S. is reflected by the current conditions of the local US market: only eight major building control manufacturers and a dozen regional and start-up companies dominate the U.S. market, each with its own products, installation methods and protocols.
Demand is shifting however, to technologies that can be integrated with a building management system – in particular, an open protocol that can work with products from numerous manufacturers in a seamless way.
Demand for KNX, approved as an ANSI/ASHREA 135 Standard, has skyrocketed over the last few years. This fact and the huge market opportunities of the US prompted the first participation of the KNX Association at LIGHTFAIR International, the leading exhibition for lighting and building automation solutions, in New York 5 – 7 May. Several thousand visitors from various fields were finally able to get to know the open protocol, which will simplify their whole installation. Some of these visitors joined the foundation meeting of KNX National Group USA, which was successfully held on 6 May, welcoming with 20 founding members from the very start.
"With the foundation of the KNX National Group USA, we are not only witnessing the beginning of a new chapter in the USA, but also in the entire world." says Heinz Lux, CEO of the KNX Association. "KNX is the worldwide standard for commercial and residential building control. The introduction of KNX in the U.S. and upcoming activities of KNX National Group USA will not only support current KNX members in the U.S., but also open the door to many new members of the American community."

"The market is ready and the foundation of KNX National Group USA could not happen at a better time", says David Thurow of Siemens, the President of KNX National Group USA. "Manufacturers, integrators, and all other professionals, who are active in the field of building automation, had been looking for a very long time for an open technology, which allows the interaction of devices. We are happy that the KNX Association is making the step to set up the KNX National Group USA and making markets in 125 countries easy accessible for all KNX users."
For those interested in becoming KNX installers, DMC USA is an accredited KNX Training Center and offers KNX-certified courses in California, New Jersey and Illinois.