JUNG KNX Push-Button F 10 Marries Classic Design with Intelligent Technology
New push-buttons for the smart home: the JUNG KNX push-button F 10 looks like a classic light switch, but masters intelligent KNX technology. It is available in the Standard and Universal versions and as an extension. In the Universal and extension combination, it guarantees a particularly cost-efficient electrical installation.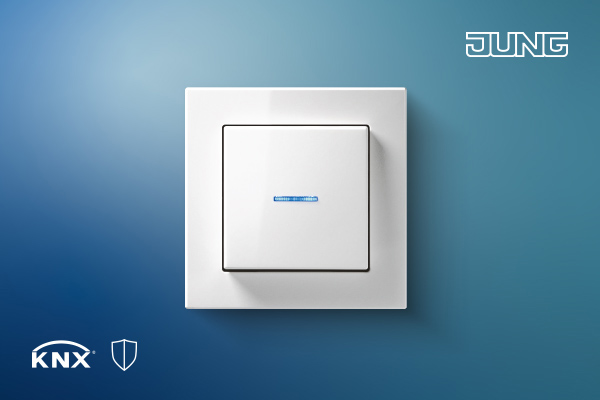 The KNX F 10 push-button masters both the push-button function and the rocker function. The rocker function of the Standard version enables additional control possibilities such as dimming luminaires. Among other things, the push-button function in the Universal version enables full-surface operation. Individual switching points can also be freely configured. The KNX push-button F 10 thus combines numerous functions.
The KNX push-button F 10 communicates with tamper protection via KNX Data Secure. As soon as an update is available, installers update the push-button with the new ETS Service app.
Cost-efficient extension
The JUNG KNX push-button F 10 in the Universal version can be connected to a KNX push-button extension via the extension connections. Alternatively, extensions with floating contact can be connected there, such as reed contacts or conventional installation buttons. The extension can thus be placed at a distance of up to 30 metres in cable length. The JUNG KNX push-buttons F 10 thus enable a smart and also considerably cost-efficient electrical installation.
An overview of the functions of the F 10:
• Intuitive and versatile operation
The function assignment of the new JUNG KNX F 10 push-button can be completely customised. In addition, their individual switching points can be freely configured thanks to a sophisticated operating concept.
• Temperature sensor
The JUNG KNX push-button F 10 in the Universal version has an integrated temperature sensor. It thus records the room temperature with pinpoint accuracy and passes the information on to, for example, a KNX temperature controller.
• Numerous additional functions
The Standard and Universal versions have a controller satellite unit and an energy saving mode. The KNX F 10 Universal push-button also has alarm signalling, a lock function and HSV colour control.
• Compact design
Its compact design of only 15 millimetres creates significantly more space for wiring.
The JUNG KNX push-button F 10 is available with covers and devices of the JUNG A, AS, CD and LS ranges.