Juniper Research Whitepaper: Top Ten Tech Trends 2020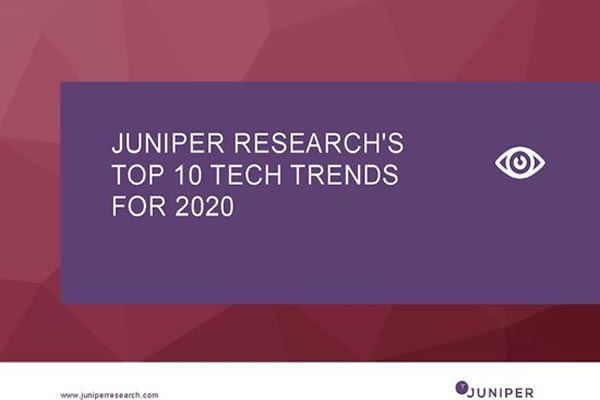 This popular annual report features predictions from Juniper Research's senior analyst team on what they believe will be the key developments in the technology space over the next 12 months.
What new technologies are expected to emerge? Where will the biggest disruptions happen? And what impact are they likely to have on the wider markets?
What's Included:
The whitepaper explores 10 major developments we expect to happen in 2020, and assesses their impact, potential for disruption and arising opportinities. This year, the list includes:
'Last Mile' fibre broadband rollouts
OTT TV advertising attribution
Mobility-as-a-Service (MaaS) expansion
Gaming subscription services
Increased competiton for Netflix
Google's RCS expansion
Apple Watch's Fitbit challenge
Huawei's 5G ban
Consumer robotics subscription services
Voice assistant security concerns
https://www.juniperresearch.com/document-library/white-papers/top-ten-tech-trends-2020